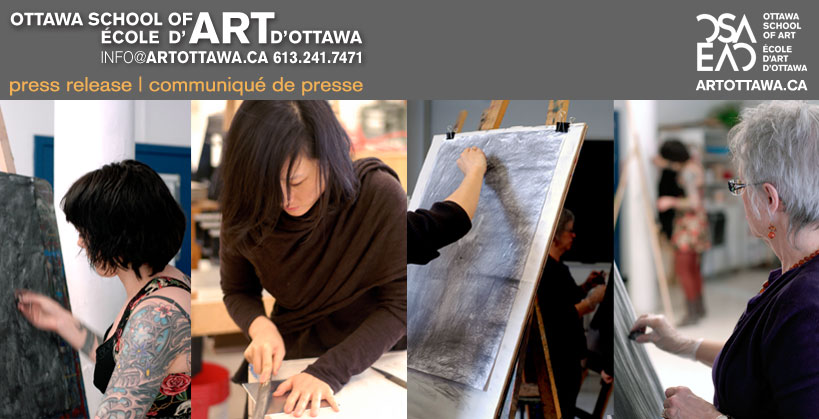 Le français suit l'anglais
For immediate publication

Ottawa, ON (January 6, 2012) The Ottawa School of Art (OSA) presents Sébastien Gaudette / Théories sur papier. Through an impressive body of work, Sébastien Gaudette presents us with his fantastic world of dreams and imagination. After having trained in architectural design, Gaudette gave way to the structured discipline to which he was familiar with and let his imagination take full rein.
His meticulous works are presented much like the human mind presents thought and calculation, contrasting the abstract with reality, logic with absurdity, and rational with emotional, giving the works both richness and depth.
"Théories sur papier" (Theories presented on paper) clearly shows the tension between the left and right cerebral hemispheres by exploring the relationship between art and science using several aspects: mathematical theories, molecular science, biomechanics and human creation through his use of mixed-mediums, colours and contrasting styles.
Gaudette invites us into his imagination, one that is filled with mystery and contemplation, one that deals with social issues of today, and one that is fragmented and chaotic.
You are invited to the opening reception on Thursday January 12, 2012 from 5 to 8pm at the Ottawa School of Art Gallery. Works will be on display from: January 12 – February 15, 2012
The Ottawa School of Art offers Diploma and Certificate Programs, and a full range of community level art courses including drawing, painting, photography, new media, ceramics, sculpture, printmaking, and a wide variety of specialized short courses and workshops. Children's and Teens' classes range from multimedia to animation and cartooning, to sculpture and construction, pottery, drawing and painting.
The Ottawa School of Art is located at 35 George Street in the Byward Market. Admission to the gallery is always free.
If you would like to know more about the event or the OSA feel free to email info@artottawa.ca or call 613-241-7471, you can also visit our website www.artottawa.ca
– 30 –
For more information, please contact:
Nina Camilleri, Marketing and Events Coordinator
613.241.7471 x 26
marketing@artottawa.ca
www.artottawa.ca
– – – – – – – – – – – – – – – – – – – – – – – – – – – – – – – – – – – – – – – – – – – – – – – – – – – – – – – – – – – – – – – — – – – – – – – – – – – – – – – – –
FOR MORE INFORMATION ABOUT OUR EVENTS | EXHIBITIONS | COURSES CHECK OUT OUR WEBSITE
https://www.artottawa.ca
OR CONTACT US | info@artottawa.ca | 613.241.7471 |
35 RUE GEORGE STREET (BYWARD MARKET),
OTTAWA, ONTARIO, CANADA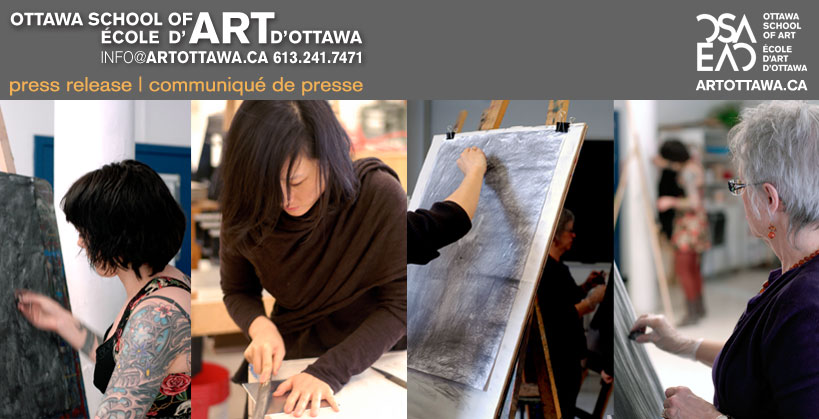 Pour publication immédiate

Ottawa, ON (6 janvier 2012) L'École d'art d'Ottawa (ÉAO) présente Sébastien Gaudette / Théories sur papier. À travers un impressionnant corpus d'œuvres, Sébastien Gaudette nous dévoile son fascinant univers de rêve et d'imaginaire. Après avoir suivi une formation en dessin de bâtiments, Gaudette met de côté la discipline rigoureuse qui lui était familière pour laisser libre cours à son imagination.
Le fruit de son travail méticuleux se veut à l'image de l'esprit humain, tout en contrastes. L'abstrait et le réel, la logique et l'absurde, le rationnel et l'émotionnel se rencontrent dans ses œuvres, leur conférant richesse et profondeur.
« Théories sur papier » illustre la tension existant entre les hémisphères droit et gauche du cerveau en explorant la relation entre l'art et la science. Les théories mathématiques, les sciences moléculaires, la biomécanique et la création humaine se manifestent donc à travers l'utilisation de techniques mixtes, de couleurs et de styles contrastés.
Gaudette nous invite au cœur de son imaginaire, peuplé de références aux questions sociales actuelles, fragmenté, chaotique, rempli d'intériorité et de mystère.
Nous vous invitons au vernissage le jeudi 12 janvier 2012 de 17 h à 20 h à la galerie de l'École d'art d'Ottawa. Les oeuvres seront exposées du 12 janvier au 15 février 2012.
L'École d'art d'Ottawa offre des programmes de diplôme et de certificat ainsi qu'un large éventail de cours d'art accessibles à tous, notamment des cours de dessin, peinture, photo, nouveaux médias, céramique, sculpture et imprimerie. L'EAO propose également une grande variété de cours de courte durée et d'ateliers spécialisés. Les possibilités de cours pour les enfants et les adolescents sont nombreuses : multimédia, animation et bande dessinée, sculpture et installation, poterie, dessin et peinture.
L'École d'art d'Ottawa est située au 35 rue George dans le marché By. L'entrée à la galerie de l'ÉAO est toujours gratuite.
Si vous souhaitez en savoir plus sur l'événement ou sur l'ÉAO, n'hésitez pas à nous contacter par téléphone au 613-241-7471 ou par courriel à l'adresse
info@artottawa.ca
. Vous pouvez également visiter notre site web
www.artottawa.ca
.
– 30 –
– – – – – – – – – – – – – – – – – – – – – – – – – – – – – – – – – – – – – – – – – – – – – – – – – – – – – – – – – – – – – – – — – – – – – – – – – – – – – – –
POUR PLUS D'INFORMATION SUR NOS ÉVÉNEMENTS | EXPOSITIONS | COURS VISITEZ NOTRE SITE INTERNET www.artottawa.ca
OU CONTACTEZ-NOUS | info@artottawa.ca | 613.580.2765 |
35 RUE GEORGE STREET (MARCHÉ BY),
OTTAWA, ONTARIO, CANADA