Upcoming events Orleans Campus
Événements à venir campus d'Orléans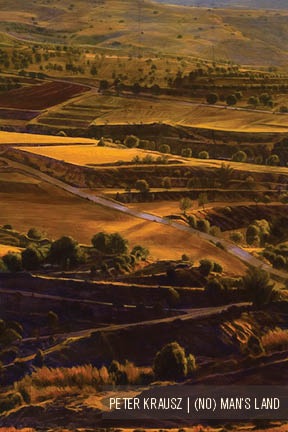 Peter Krausz | (No) Man's Land
Ottawa School of Art Gallery – Orleans Campus
The Ottawa School of Art is pleased to present (No) Man's Land, an exhibition of works by artist Peter Krausz. The exhibition takes place from February 28 to April 13, 2014 at the Ottawa School of Art's Orleans Gallery on the main floor of the Shenkman Arts Centre, Orleans. Come join us Sunday March 23 for the meet the artist reception from 1pm to 3pm in the Gallery.(No) Man's Land is a series of 16 large paintings and comprises two collections – Man's Land and No Man's Land. The complementary collections were inspired by Krausz's travels to Cyprus, and draw their inspiration from the Nekri Zoni – the UN-controlled track of land that runs across the country, separating the Greek Cypriot and Turkish Cypriot communities.
Man's Land focuses on our harmonious connection with nature, while No Man's Land focuses on the dead zone that divides a country and appears clearly in satellite imagery.
Krausz creates Man's Land, these meditative landscapes, using an ancient painting technique called secco. Working with raw pigments suspended in an egg-based emulsion and applied to a dry surface, he creates remarkable colours that seem to suspend light over the paintings, illuminating the landscapes and casting deep shadows that draw the viewer in. While No Man's Land is painted in oil paints and tar, giving the land deep tones and textures.
Romanian-born, Peter Krausz, studied at the Bucharest Academy of Fine Arts but has called Montreal home since 1970. He is a tenured professor at the Université de Montréal. He has participated in many solo and group exhibitions in Quebec and throughout Canada, the United States and Europe. His works are part of private and public collections such as the Montreal Museum of Fine Arts, the Musée national des beaux-arts du Québec, the Musée d'art contemporain de Montréal, The Jewish Museum in New York and many others.
For more information please contact Nadine Argo, Gallery Coordinator 613-580-2765 or osao.gallery@artottawa.ca 

Meet the artist!
Sunday March 23, 2014
Demonstration of the secco technique: 11am to 12pm
In gallery artist talk: 12pm to 1pm
Reception: 1pm to 3pm
Free to the public – Everyone welcome
Works will be on display from:
February 28 – April 13, 2014
ORLEANS CAMPUS
Shenkman Arts Centre | 245 Centrum Blvd.
Gallery Hours
Monday – Sunday | 9:00 am to 8:00 pm
[Subject to change]