Upcoming events Orleans Campus
Événements à venir campus d'Orléans
Ottawa Art Association | Summer Show
Ottawa School of Art Gallery – Orleans Campus
The Ottawa School of Art is pleased to present 
the Ottawa Artist Association Summer Show, 
an exhibition of works by 27 local artists. The exhibition takes place from June 27 to Aug 3, 2014 at the Ottawa School of Art's Orleans Campus Gallery located on the main floor of the Shenkman Arts Centre in Orleans. Come join us Sunday July 6 for the meet the artists reception from 1pm to 3pm in the Gallery.
The Ottawa Art Association Summer Show is a group show of visual artists working in watercolour, oil, acrylic, encaustics and mixed media. This wonderful collection of works shows a great variety in style, subject and creativity. Though diverse the show brings together great representation of painting in the region, from landscape to expressive from high realism to contemporary.
The Ottawa Artist Association has been part of the arts community and bringing artists together for 95 years and currently has 281 members. Members come from Ottawa as well as the surrounding region, including Western Quebec. The Ottawa Artist Association is an open arm association that welcomes artists at all stages of development from the emerging artists at the beginning of their career to the established artists recognised in the region and whose work may be found in Galleries Nationally and internationally.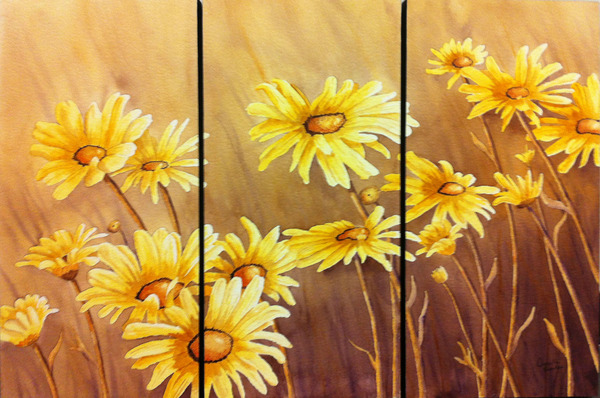 Danelle Beaulieu "Yellow Daisies"
For more information please contact Nadine Argo, Gallery Coordinator 613-580-2765 or osao.gallery@artottawa.ca 

Meet the artist!
Sunday July 6, 2014
Reception: 1pm to 3pm
Free to the public – Everyone welcome
Works will be on display from: July 27 – Aug 3, 2014
ORLEANS CAMPUS
Shenkman Arts Centre | 245 Centrum Blvd.
Gallery Hours
Monday – Sunday | 9:00 am to 8:00 pm
---

Upcoming events Orleans Campus
Événements à venir campus d'Orléans 
Exposition estivale
de l'Ottawa Art Association
l'École d'art d'Ottawa – Campus d'Orléans
L'École d'art d'Ottawa est heureuse de présenter l'exposition estivale de l'Ottawa Art Association, une exposition d'œuvres de 27 artistes de la région. L'exposition a lieu du 27 juin au 3 août 2014, dans la galerie de l'École d'art d'Ottawa – campus d'Orléans située à l'étage principal du Centre des arts Shenkman à Orléans, Ottawa. Joignez-vous à nous le dimanche 6 juillet pour une réception et causerie avec les artistes de 13 h à 15 h dans la galerie.
L'exposition d'été de l'Ottawa Art Association rassemble le travail d'artistes en arts visuels travaillant l'aquarelle, la peinture à l'huile, la peinture à l'acrylique, l'encaustique et les techniques mixtes. Cette merveilleuse collection d'œuvres illustre la diversité des techniques et styles et la créativité de ses membres. Bien que diversifiée, l'exposition offre un portrait de la peinture de la région, du paysage à l'expressif, de l'hyperréalisme au contemporain.
L'Ottawa Art Association fait partie de la communauté artistique et rassemble les artistes depuis 95 ans et compte actuellement 281 membres. Les membres proviennent d'Ottawa et de ses environs, incluant l'ouest du Québec. L'Ottawa Art Association accueille à bras ouverts les artistes à tous les stades de leur développement, des artistes émergents, aux artistes connus dans la région, jusqu'à ceux qui se retrouvent dans des galeries nationales et internationales.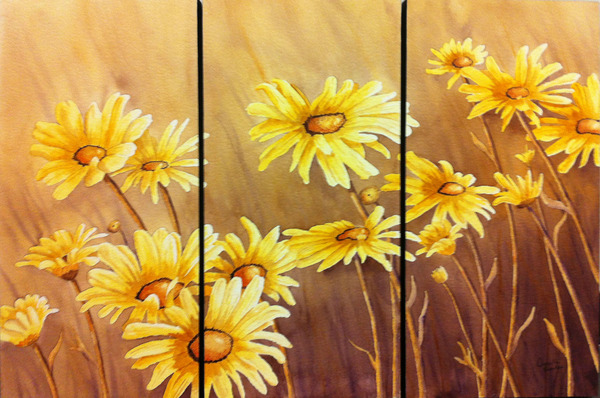 Danelle Beaulieu "Yellow Daisies"
Pour plus d'informations, veuillez contacter Nadine Argo, coordonnatrice de la galerie, au 613-580-2765 ou par courriel à l'adresse osao.gallery@artottawa.ca.
Rencontre avec l'artiste!
Dimanche 6 juillet 2014
Réception : 13 h à 15 h
Entrée gratuite – bienvenue à tous
Les œuvres seront exposées du : 27 juin au 3 août 2014
CAMPUS D'ORLÉANS


Centre des Arts Shenkman | 245 boulevard Centrum
Heures de la galerie
Lundi au dimanche | 9 h à 20 h
 – – – – – – – – – – – – – – – – – – – – – – – – – – – – – – – – – – – – – – – – – – – – – – – – – – – – – – – – – – – – – – – — – – – – – – – – – – – – – – – – –
FOR MORE INFORMATION ABOUT OUR EVENTS | EXHIBITIONS | COURSES VISIT 
POUR PLUS D'INFORMATION SUR NOS ÉVÉNEMENTS | EXPOSITIONS | COURS VISITEZ
ARTOTTAWA.CA
OR CONTACT US
OU CONTACTEZ-NOUS
info@artottawa.ca
613.241.7471
35 RUE GEORGE ST, OTTAWA, ONTARIO, CANADA