MASTER CLASSES • COURS DE MAÎTRE
The Summer Masterclasses focus on providing students with new and unique approaches to familiar media that will expand their horizons of self-expression and creativity. Each intensive course is taught by artists who are active practitioners of these techniques and students will have a rare opportunity to work with these artists to gain a better understanding of them as well as beginning to master the techniques involved. Please check out this dynamic selection of courses and try something new and different this summer!
Les cours de maître d'été sont axés sur des approches innovatrices tout en permettant aux étudiants de travailler avec des moyens d'expression qu'ils connaissent déjà, élargissant leurs horizons et favorisant leur expression personnelle et leur créativité. Chacun des cours intensifs est enseigné par des artistes et praticiens expérimentés. Les élèves auront une rare occasion de travailler avec ces professionnels et d'acquérir une meilleure compréhension et maîtrise des techniques. Prenez le temps de parcourir cette gamme de cours dynamiques et essayez quelque chose de nouveau et de différent cet été!
S19DMC1 | MOKUHANGA PRINTING WORKSHOP | INTRO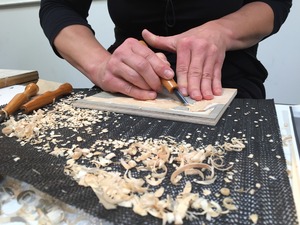 At the onset of this 4-day mokuhanga workshop, participants will make a two-color print from prepared blocks using; water-based pigments, kento registration, and pressing with a baren – all hallmarks of this Japanese woodblock printmaking process date back to the 17th century. We will then move into designing, carving and printing our own designs with thorough demonstrations of each step along the way. At the workshop's closing, we will have the option of exchanging prints with one another.
Questions? More info may be found at www.marybrodbeck.com/classes.
Participants please bring:
A design/drawing for your print. Your design/drawing needs fit within a 5" x 7" boundary (paper size will be 6" x 8"), have clearly defined shapes (like in a coloring book) and may utilize two (maybe more) colors.
Instructor: Mary Brodbeck
Fee: $405
Tuesday – Friday, 9 h – 16 h
July 30 – August 2
4 days | 24 hours
S19DMC2 | CREATURES IN POLYMER CLAY | INTRO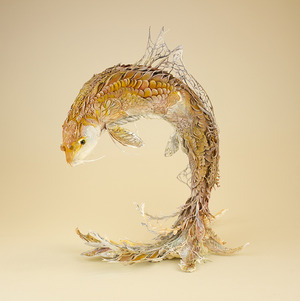 Want to make your own detailed 3D animals, fantasy beasts or monsters?  Explore armature construction, balance, detail, movement, texture and anatomy in polymer clay making original fantastic creatures of your choosing.  This one week intensive will walk you through the process of building your creatures from the inside out and encourage your own style and voice in the making.
Instructor: Ellen Jewett
Fee: $445
Tuesday – Saturday, 9 h 30 – 16 h 30
August 6 – August 10
5 days | 30 hours