PRESS RELEASE
FOR IMMEDIATE RELEASE
POUR PUBLICATION IMMÉDIATE
MACHINATIONS | GUILLAUME LACHAPELLE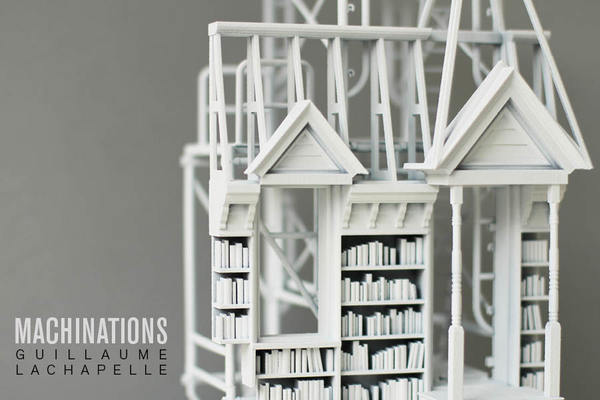 Ottawa, ON (October 3, 2013)
 The Ottawa School of Art is proud to Guillaume Lachapelle's exhibition Machinations; an exhibition featuring sculptural works. The exhibition will take place from October 10 to November 17, 2013, in the OSA Gallery on the main floor located at 35 George Street, in the Byward Market. Reception will take place on Thursday October 10, 2013 from 5 pm to 8 pm. Come meet the artist; everyone is welcome!Guillaume Lachapelle's exhibition Machinations presents a series of miniature sculptures that are extraordinarily intricate. His curious pieces allow viewers a close-up inspection of everyday places, bringing focus to details that would normally get overlooked. These everyday objects play highly on form over function offering viewers a sense of contradiction to each piece.
"Guillaume Lachapelle's works depict a playful universe occupied by objects with uncertain functions where the actual codes are reinterpreted. The architecture of the sculptures present motifs of everyday scenery and provides the setting for a story that implied accessories and characters interact and speak in metaphors. At the intersection of two worlds, facades and thresholds establish a focal point where the dialogue begins to develop. The sculptures are presented as an installation. They fit between the strange and the familiar in an unlikely theatrical where nature is diverted. Their pretenses mechanisms give the impression of a function that nothing reveals that remains untold. Despite their attractive appearance, they reveal rather to an idyllic world and point to dystopian universe." – Artist Statement
The opening vernissage will take place at the OSA Main Gallery in the ByWard Market on Thursday October 10th, 2013 from 5 pm – 8 pm. Admission is free.
This free exhibition runs from October 10 to November 17, 2013.
---
Ottawa, ON (3 octobre 2013)
 L'École d'art d'Ottawa est fière de présenter Machinations, une exposition de sculptures de l'artiste Guillaume Lachapelle. L'exposition sera présentée du 10 octobre au 17 novembre 2013, dans la galerie de l'École d'art d'Ottawa située dans le marché By. Le vernissage aura lieu le jeudi 10 octobre de 17 h à 20 h. Venez rencontrer l'artiste. Bienvenue à tous!L'exposition Machinations de Guillaume Lachapelle présente une série de sculptures miniatures des plus complexes. Ces pièces intrigantes offrent aux visiteurs l'opportunité d'inspecter de près des espaces du quotidien et leur permettent ainsi de capter des détails qui normalement passeraient inaperçus. Ces objets du quotidien, détournés de leur fonction, captivent par ​​leur forme et laissent un sentiment d'invraisemblance.
« Les oeuvres de Guillaume Lachapelle mettent en scène un univers ludique peuplé d'objets aux fonctions incertaines où les codes du réel sont réinterprétés. L'architecture des maquettes présente des motifs empruntés au paysage quotidien et constitue le décor d'un récit implicite où les accessoires et les personnages interagissent et s'expriment par des métaphores. À la rencontre de deux mondes, les façades et les seuils établissent le point de convergence où se développe le dialogue. Des objets sont présentés sous forme d'installation. Ils s'inscrivent entre l'étrangeté et le familier dans une théâtralité improbable où leur nature est détournée. Leurs semblants de mécanismes donnent l'impression d'une fonction que rien ne révèle et qui demeure indicible. Malgré leur apparence séduisante, ils révèlent plutôt l'envers d'un monde idyllique et pointent vers des univers dystopiques. » – Démarche artistique
Le vernissage aura lieu à la galerie principale de l'ÉAO dans le marché By le jeudi 10 octobre 2013 de 17 h à 20 h. L'entrée est gratuite.
Les oeuvres seront exposées du 10 octobre au 17 novembre 2013.