DeSerres Adopt-an-Art-Student Scholarship Program  
An innovative partnership for the benefit of students at the Ottawa School of Art
September 1, 2015 (Ottawa, ON) The Ottawa School of Art is pleased to announce their partnership with DeSerres and the launch of the DeSerres Adopt-an-Art-Student Scholarship Program. DeSerres will be "adopting" a first year diploma student from the OSA to commence in November 2015.
Many talented first year students at OSA face financial hardship when they begin their studies. DeSerres has agreed to provide an annual scholarship in the form of monthly support to a student enrolled for a minimum of one year in a full time program (Portfolio Development Program or 3-year Diploma Program) at OSA. DeSerres' support is loosely based (and with tongue in cheek) on the concept of adoption, as used by the Foster Parent Plan, etc.
Each month of the academic year starting in November, the selected student will receive a cheque of $150 and a DeSerres gift certificate of $50. The goal is to provide the "adopted" art student with financial and material support during the academic year. In addition, the adopted student will have the opportunity to display selected work on an ongoing basis in a prominent location in the DeSerres St. Laurent Centre store. This will serve both as a public venue for the student's artwork as well as a window on the progress for the interested public.
Applicants will be selected during the fall term based on a combination of artistic promise and demonstrated financial need. A jury made up of the local manager of DeSerres and two faculty members of the Ottawa School of Art will review a portfolio of recent work as well as a short essay outlining the student's financial need and future goals. The "adopted" student (i.e. the winner of the scholarship) will be announced in the late fall 2015 at DeSerres' St. Laurent store.
DeSerres, as a third-generation family-owned and proudly Canadian business, DeSerres has close ties to the art community and understands the importance of supporting artists every step of the way.
Founded in 1908 with 34 stores coast to coast and an online shop, DeSerres supplies every level of artist the tools they need to be able to express their passions and emotions.  DeSerres is proud to have created a brand that helps artists leave their mark and is honoured to support the Ottawa School of Art and one of their promising new art students.
The Ottawa School of Art (OSA) is a publically funded, community based, private career college and general school for instruction in all aspects of the visual arts. OSA has been this city's premier visual arts institution since 1879, and continues to be a leading centre for visual arts education and creative expression in the Ottawa region. Our classes, workshops and programs are open to members of the public of all ages and skill levels. Through well-designed programs, OSA offers high quality instruction to our students through direct involvement with professional artists.
With our motto, "Teaching Art to Everyone" the OSA encourages the production and display of art from our 12 studios and 3 gallery spaces that are free to the public. The school runs two campuses located at 35 George Street in the ByWard Market and at the Shenkman Arts Centre in Orleans.
For more information please contact:
Jeff Stellick
Directeur général
613 241-7471 poste 25
director@artottawa.ca
Alison Brown
Conseillère principale marketing 
514-842-6695 poste 7333
abrown@deserres.ca
École d'art d'Ottawa 
35, rue George
Ottawa (Ontario)
K2N 8H9
Numéro d'organisme de charité
119235836 RR0001
artottawa.ca
DeSerres
400, boul. de Maisonneuve Ouest, bureau 1200
Montréal (QC)
H3A 1L4
deserres.ca
 @artottawa
 DeSerres
 @artottawa
 @DeSerres
 @artottawa
 DeSerres Canada
 …………………………………………………………………………………………………………………………………………………..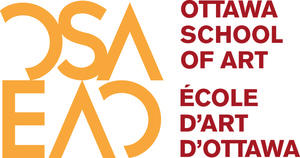 Programme de bourse d'études DeSerres « Adopt-an-Art-Student »
  
Un partenariat innovateur bénéficiant aux étudiants de l'École d'art d'Ottawa
1e septembre 2015 (Ottawa, ON) L'École d'art d'Ottawa est heureuse d'annoncer son partenariat avec DeSerres et le lancement du Programme de bourse d'études DeSerres « Adopt-an-Art-Student ». DeSerres « adoptera » un étudiant de première année au programme de diplôme de l'ÉAO à compter du mois de novembre 2015.
Beaucoup d'étudiants talentueux de première année à l'ÉAO font face à des difficultés financières lorsqu'ils commencent leurs études. DeSerres a accepté de fournir une bourse annuelle sous la forme de soutien mensuel à un étudiant inscrit pour un minimum d'un an dans un programme à temps plein (programme de développement de portfolio ou programme de diplôme complété en trois ans) à l'ÉAO. Le soutien de DeSerres est vaguement basé (avec une touche d'humour) sur le concept de l'adoption, tel qu'utilisé par les associations de familles adoptives, etc.
Chaque mois de l'année scolaire à partir de novembre, l'étudiant sélectionné recevra un chèque de 150 $ et un carte-cadeau de 50 $ DeSerres. L'objectif est de fournir à l'étudiant « adopté » le soutien financier et le matériel dont il aura besoin pour la durée de l'année scolaire. En outre, l'étudiant adopté aura la possibilité de présenter certaines de ses œuvres, sélectionnées sur une base continue, dans un endroit bien en vue dans le magasin DeSerres du centre commercial St-Laurent. Cela constituera un site d'exposition public pour le travail de l'étudiant tout en étant une fenêtre sur le progrès pour le public intéressé.
Les candidats seront sélectionnés au cours de la session d'automne sur la base de leur potentiel artistique et de leurs besoins financiers. Un jury composé du directeur local de DeSerres et de deux membres du corps professoral de l'École d'art d'Ottawa examinera un portfolio de travaux récents ainsi qu'un court essai soulignant les besoins financiers de l'étudiant et ses objectifs futurs. L'étudiant « adopté » (le récipiendaire de la bourse) sera annoncé à la fin de l'automne 2015 au magasin DeSerres du centre commercial St-Laurent.
DeSerres, en tant qu'entreprise familiale de troisième génération, fièrement canadienne, entretient des liens étroits avec la communauté artistique et comprend l'importance du soutien aux artistes à chaque étape de leur cheminement en art.
Fondé en 1908, avec maintenant 34 magasins d'un océan à l'autre et une boutique en ligne, DeSerresapprovisionne les artistes de tous les niveaux d'habiletés en matériaux pour faciliter l'expression de leurs passions et émotions. DeSerres est fier d'avoir créé une marque qui aide les artistes à se démarquer et est honoré d'appuyer l'École d'art d'Ottawa et un de ses nouveaux et plus prometteurs étudiants en art.
L'École d'art d'Ottawa (ÉAO) est un collège d'enseignement professionnel privé et d'enseignement général en arts visuels, à base communautaire et financée par des fonds publics. L'ÉAO est le principal établissement voué à l'enseignement des arts visuels à Ottawa depuis 1879 et elle continue d'être un centre important d'éducation en arts visuels et en expression créative dans la région d'Ottawa. Ses cours, ateliers et programmes sont ouverts aux membres du public de tous les âges et niveaux d'habiletés. Grâce à des programmes bien développés, l'ÉAO offre un enseignement de haute qualité à ses étudiants grâce à leur contact direct avec des artistes professionnels.
Par le biais de sa devise « Enseigner l'art à tous », l'ÉAO encourage la production et la présentation d'œuvres d'art dans ses 12 studios et ses 3 espaces d'exposition ouverts gratuitement au public. L'École gère également deux campus situés au 35 rue George dans le marché By et au Centre des arts Shenkman à Orléans.
Pour plus d'information, veuillez contacter :
Jeff Stellick
Directeur général
613 241-7471 poste 25
director@artottawa.ca
Alison Brown
Conseillère principale marketing 
514-842-6695 poste 7333
abrown@deserres.ca
École d'art d'Ottawa 
35, rue George
Ottawa (Ontario)
K2N 8H9
Numéro d'organisme de charité
119235836 RR0001
artottawa.ca
DeSerres
400, boul. de Maisonneuve Ouest, bureau 1200
Montréal (QC)
H3A 1L4
deserres.ca
 @artottawa
 DeSerres
 @artottawa
 @DeSerres
 @artottawa
 DeSerres Canada