Upcoming events Orleans Campus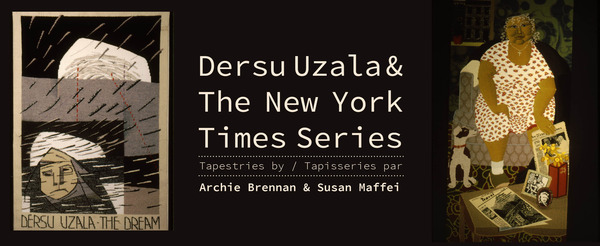 Dersu Uzala & The New York Times Series
Archie Brennan & Susan Martin Maffei
Ottawa School of Art Gallery – Orleans Campus
The Ottawa School of Art is pleased to present 
Dersu Uzala & The New York Times Series,
 an exhibition of works by artists Archie Brennan and Susan Maffei. The exhibition takes place from August 23 to September 22, 2013 at the Ottawa School of Art's Orleans Gallery on the main floor of the Shenkman Arts Centre, Orleans. Come join us Sunday August 25 for: an Artist talk from 12 to 1,  Reception  meet the artist from 1 to 3 in the Gallery, as well as the chance to try your hand at weaving with our public workshop. All welcome.Brennan and Maffei put a modern twist on a medieval craft in their tapestry exhibits.The inspiration for the figures in Brennan's Dersu Uzala series came directly from a damaged photocopied drawing given to him during a 1991 stay on Baffin Island. The distorted image brought to his mind the main character in the Ikiro Kurosawa film of the same name.The Sunday New York Times is the inspiration behind Maffei's New York times series. Each large-scale tapestry focuses on one section of the Sunday edition and a particular person, usually a relative of Maffei's. The character of the person is developed through the setting and the accompanying objects.
Archie Brennan has been a leading international figure in tapestry for more than 25 years. His work is in major art museums around the world and he has taught and lectured at universities and art schools since 1962. He began a 7 year full time tapestry apprenticeship in 1948, and is also is an arts graduate, both out of Scotland.
Susan Martin Maffei is an internationally known tapestry artist whose background includes art studies at The Art Students League in NYC, tapestry training at Les Gobelins in Paris, apprenticeship and studio work at the Scheuer Tapestry Studio, NYC and conservation of antique textiles at Artweave Gallery, NYC. She has been weaving her work professionally since 1985. She has taught, lectured and exhibited in the U.S. and abroad and has work in both public and private collections.
For more information on the Ottawa School of Art Orleans, its instructors, classes and fall program visit www.artottawa.ca or call us at 613-580-2765.
Ottawa School of Art – Orleans campus Gallery located in the Shenkman Arts Centre
Free Reception. All Welcome! 245 Centrum Blvd. Orleans ON. K1E 0A1
For more information please contact Nadine Argo, Gallery Coordinator 613-580-2765 or osao.info@artottawa.ca  

A  modern take on a medieval art form.Works will be on display from:
August 23 – September 22, 2013
Check out this great video for Archie Brennan and Susan Maffei's Exhibition at the OSA Orleans Gallery for the Triennial of Textile Arts
Join us Sunday August 25 
Artists Talks:
12:00 to 1:00 pm
Meet the Artist:
1 pm to 3 pm
Hands On, Try your hand at weaving:
1 pm to 3 pm
ORLEANS CAMPUS
Shenkman Arts Centre | 245 Centrum Blvd.
Gallery Hours
Monday – Sunday | 9:00 am to 8:00 pm
[Subject to change]