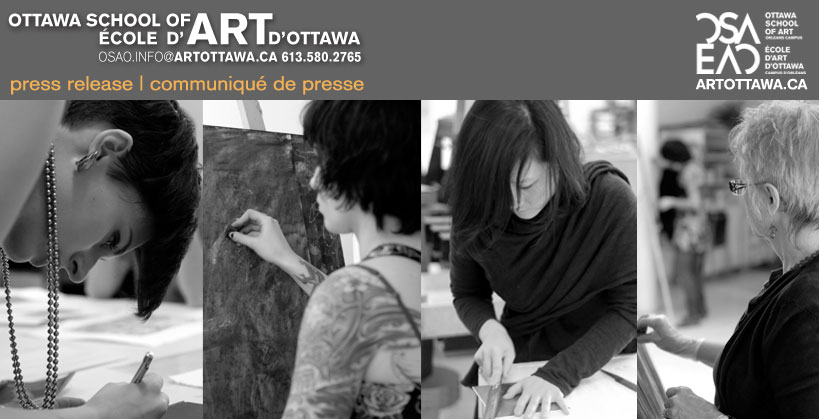 Le français suit l'anglais
For immediate publication

Ottawa, ON (January 9, 2012). The Ottawa School of Art Orleans Gallery presents Manimations, Chris Simonite's animated deconstruction of male identity in the 21st century.
Inspired by his experience of the feminist culture of the 1970s and 80s, Simonite literally puts himself in the spotlight as he explores a continuum of masculine stereotypes. Each of his four alter egos, a hyper-masculine country singer, a clueless everyman, an unwitting participant in the men's movement and an older man facing his mid-life crisis, present themselves to the audience, but is everything as it appears?
Drawing on his extensive arts background, Simonite transforms watercolour images into animations that, ultimately, poke fun at the absurdities of a world where too many see life as a serious business.
Chris Simonite's exhibition consists of a collection of video works, as well as a live performance at the opening reception.
You are invited to the opening reception on Sunday January 12, 2012 from 1 to 3pm at the Ottawa School of Art Orleans Gallery, located at the Shenkman Arts Centre. Works will be on display from: January 12 – February 17, 2012
The Ottawa School of Art, Orleans campus, offers an Arts Fundamentals certificate as well as a full range of community level art courses including drawing, painting, photography, new media, sculpture, printmaking, and a wide variety of specialized short courses and workshops. Children's and Teens' classes range from multimedia to cartooning, to sculpture and construction, drawing and painting.
The Ottawa School of Art is located at 245 Centrum Blvd., in Orleans. Admission to the gallery is always free.
If you would like to know more about the event or the OSA feel free to email  osao.admin@artottawa.ca or call 613-241-7471, you can also visit our website artottawa.ca
– 30 –
For more information, please contact:
Nina Camilleri, Marketing and Events Coordinator
613.241.7471 x 26
marketing@artottawa.ca
artottawa.ca
– – – – – – – – – – – – – – – – – – – – – – – – – – – – – – – – – – – – – – – – – – – – – – – – – – – – – – – – – – – – – – – — – – – – – – – – – – – – – – – – –
FOR MORE INFORMATION ABOUT OUR EVENTS | EXHIBITIONS | COURSES VISIT
artottawa.ca
OR CONTACT US |  osao.admin@artottawa.ca | 613.580.2765 |
245 CENTRUM BLVD, (SHENKMAN ARTS CENTRE),
ORLEANS, ONTARIO, CANADA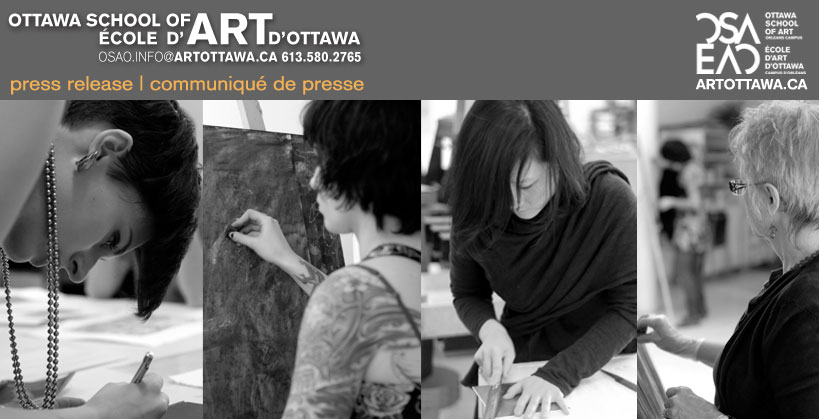 Pour publication immédiate

Ottawa, ON (9 janvier 2012) La galerie de l'École d'art d'Ottawa présente Manimations de Chris Simonite, une déconstruction animée de l'identité masculine du 21e siècle.
Inspiré par sa propre expérience de la culture féministe des années 70 et 80, Simonite se projette littéralement à l'avant-scène alors qu'il explore un continuum de stéréotypes masculins. Chacun de ses quatre alter ego, un chanteur country hypermasculin, un homme ordinaire désemparé, un participant involontaire au mouvement des hommes et un homme faisant face à la crise de la quarantaine, se présente à l'audience, mais est-ce que tout est réellement tel qu'il y paraît?
Puisant à même sa vaste expérience en arts, Simonite transforme ses images à l'aquarelle en vidéo d'animation qui, au final, se moquent des absurdités d'un monde que l'on prend souvent trop au sérieux.
L'exposition de Chris Simonite consiste en une série d'œuvres vidéo de même qu'une performance qui aura lieu lors du vernissage.
Nous vous invitons au vernissage dimanche le 15 janvier 2012 de 13 h à 15 h à la Galerie de l'École d'art d'Ottawa. Les oeuvres seront exposées du 12 janvier au 17 février 2012.
L'École d'art d'Ottawa, campus d'Orléans, offre un Certificat d'arts fondamentaux ainsi qu'un large éventail de cours d'art accessibles à tous, notamment des cours de dessin, peinture, photographie, nouveaux médias, sculpture et imprimerie. L'ÉAO propose également une grande variété de cours de courte durée et d'ateliers spécialisés. Les possibilités de cours pour les enfants et les adolescents sont nombreuses : multimédia et bande dessinée, sculpture et installation, dessin et peinture.
L'École d'art d'Ottawaest située au 245 boulevard Centrum à Orléans. L'entrée à la galerie de l'ÉAO est toujours gratuite.
Si vous souhaitez en savoir plus sur l'événement ou sur l'ÉAO, n'hésitez pas à nous contacter par téléphone au 613-580-2765 ou par courriel à l'adresse
osao.admin@artottawa.ca
. Vous pouvez également visiter notre site web
artottawa.ca
.
– 30 –
– – – – – – – – – – – – – – – – – – – – – – – – – – – – – – – – – – – – – – – – – – – – – – – – – – – – – – – – – – – – – – – — – – – – – – – – – – – – – – –
POUR PLUS D'INFORMATION SUR NOS ÉVÉNEMENTS | EXPOSITIONS | COURS VISITEZ
artottawa.ca
OU CONTACTEZ-NOUS | osao.admin@artottawa.ca | 613.580.2765
245 CENTRUM BLVD, (LE CENTRE DES ARTS SHENKMAN),
ORLEANS, ONTARIO, CANADA